The course at the HCC Brandon Campus is a familiar one.  It is the first parking lot you come to, the one by the ball field.  Teams will be in the infield of the track.  ALL others will be in the grass to the west side of the track or in the paved parking lot just to the east of the track.  We are going to cut down on the numbers of vehicles and people in the pits this year.
Teams should arrive early.  Since this is the first race of the season we will be doing an extensive inspection of the cars and drivers.  It will include drivers bailing out and brakes and steering.
Teams should go online to Electrathonamerica to download the Driver and Car Inspection forms and fill them out beforehand to save a lot of time
The track is a 1200′ plus rectangle and one of the smoothest we run on all year.  Just watch out for the water hazard on the north side of the track.
At the start of a new season there are a few questions floating around.
Who will take Bradys place as the lead driver for TBT?  Will Brandon be back as strong as they have been in the past?  Who will be the lead driver for Brandon?  Will the girls from Middleton be as strong as they were at the end of last year?  Who will be the new driver for Foundation Academy?  Will we see Strawberry Crest come back?  How will Wharton do this year?  Whats with the Electrocutioners getting a third car number?  How will the HCC team do on their home track?  Will Rodney be able to repeat?  I hear he has been making modifications to his car.   Will the experimental battery class get bigger this year?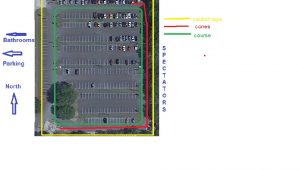 ..
Bring your friends and come on out to the races.  No hearing protection required.
Vic Nieves