Our next event will be held in conjunction with the University of South Florida IEEE Engineering Expo located at 3824 USF Alumni Drive, Tampa FL 33620.
On Friday, February 21, 2020, we will have our Electrathon cars on display at the Engineering Expo to show students from various counties and answer any questions they may have concerning the design, build and components of an Electrathon car. This Expo draws a large number of students each year to show new ideas. For more information go to: expo.eng.usf.edu
On Saturday, February 22, 2020, Electrathon Cars hit the parking lot for two 1 hour races. This is one of our original venues for Electrathon Racing in Tampa Bay. The road course is very challenging for drivers and their team cars. The first race starts at 10am and the second race starts at 1pm.
On Friday, we will do a partial set up of the safety barrier around the course and then around 5pm the cones will be delivered, (Thank You Bob's Barricades) to set up the actual road course.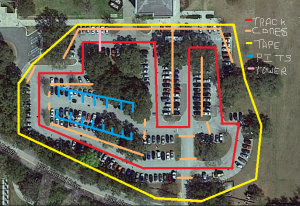 It would be nice to see some of our North Florida, Georgia, Alabama and Louisiana Electrathon Teams at this race.