The 11th Annual Electrathon Road Race was one of the coldest races we have ever put on. Temps were in the 40s for the start of the first race. Drivers were briefed on frost bite on the hands. Ha.
Mulberry High School, who was displaying their cars at the Expo Friday helped Charlie set out the stakes we use to put up the caution tape to mark the course. It was WAY to windy to put the tape up and had to wait till Saturday morning.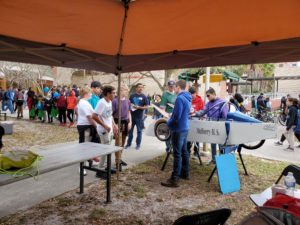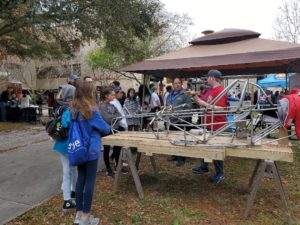 Around 430 pm on Friday Charlie and a few others started setting out the 300 traffic cones used as barriers and course layout. Saturday at Oh Dark Thirty and 39 degrees, Charlie, Rodney and Vic finished setting out the cones and finished course prep.
We were glad to see an old face return to race with us. Slam (Steve) and his new bride from the Orlando area. They are 1/3 of the Electrocutioners and he drives the 90 car powered by lithium batteries. VERY FAST CAR! He only led both races with 73 laps each and the two fastest laps of the day at 40.912 seconds and 40.738 seconds.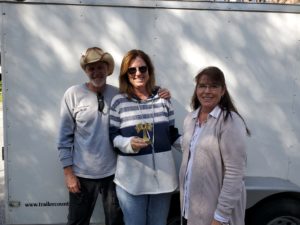 Another new face was the team from Plant City High School. They have been absent from racing for several years but have a new Automotive Instructor (David Kocher) as their team sponsor who is very enthusiastic. They have a great team and raced Brady's 242 Titan car. They are repairing their loaner car (the old long nose) and building their own car. The 242 car is very fast and has raced in the open and Advanced battery classes. Plant City had two sets of new Optima Yellow Top batteries and had nothing but problems with them. In both races they had a battery go down with a bad cell and finished behind Mulberry in the High School Class. The one thing you CAN NOT change during the race is a battery. What you start with you have to finish with.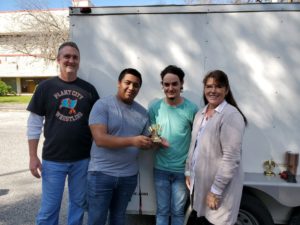 Jim Robinson of Silver Bullet Racing out of Titusville Florida had a good day right behind the Electrocutioners. He ran the first race with advanced batteries and the second with standard batteries. Jim had a problems with his lithium ion battery pack and switched to standard batteries for the second race. He had the same lap count, 70 laps, with both types of batteries.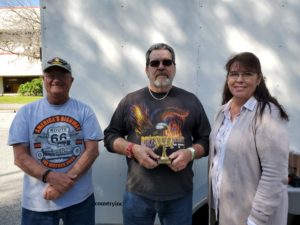 Jim Robinson is a Master Builder of many things, from Electrathon cars to hot rods. Many of his Electrathon cars can be found at any of our races and even up North. In order to spread his knowledge of Electrathon car building we now have two copies of his JIGS that are used to lay out the frames for welding that we will use to help teams build their cars.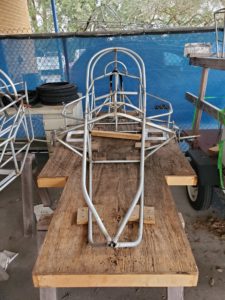 Rodney with Tiger Racing had a good day in the Open Class. He was experimenting with gear ratios and had a very MINOR problem in the second race when his drive wheel, that he didn't tighten properly between races, came loose and was rubbing on the frame. A quick pitstop and he was back on the track and still finished first in the Open Class.
That OOOOPS allowed the top High School team, Mulberry High School, to beat him by one lap on total laps for the day.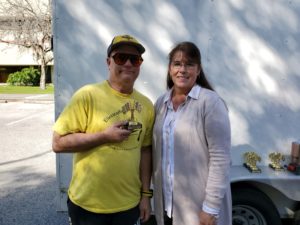 Mulberry High School car 38 is in the High School Division and occasionally gives the top Open Class cars a run for their money. One thing that Mulberry High School team does, is change drivers on a pit stop half way thru the race. This give more students a chance to drive and gives them a very good core of drivers and pit crews.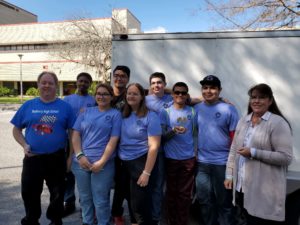 The home team, USF College of Engineering, was fielding a new team for the first time this season since Sai graduated. They had problems and only made the second race. The car performed well and they should be a contender in the Advanced Battery Class soon.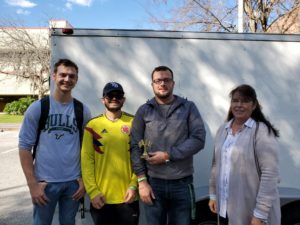 Most of the HCC team appeared to be new members for this race day. They were late starting the first race but had a good showing overall with their older design car. We will be working with them on using one of the JIGS to build a new car for their team.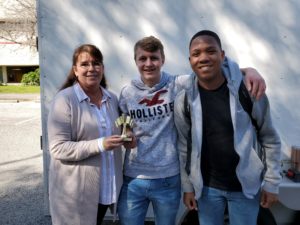 A big Shout Out to all the teams who helped with turning the track back into a LARGE parking lot. The races were over at 2:00 P.M. and we were ready to hand out trophies at 2:35.
We had many new drivers for the races and some started out faster than others but by the midway point all were zipping around the track. No wrecks and no trading paint. Other than the CCOOOOOOOLD for Florida start of the day it was a very good day. Course Marshals and Flag People had a VERY uneventful day which is how we like it.
Next race will be March 7th at Mulberry High School on their track. Aprils race will be at the Florida Solar Energy Center on the 25th and will be our final race for the year. Charlie already has most of the schedule for next year firmed up and we are looking at a 2 day, 4 race event in the Fort Myers area on December 4th and 5th 2020. There are still out of area races at 5 Flags Speedway in Pensacola, Chambers County Alabama, and Barber Motorsports Park in Leeds Alabama before the end of the school year for any teams that wish to compete out of our area.
Vic