Electrathon of Tampa Bay/Electrathon of Florida held the first event of the 2020-2021 race season on September 19, 2020 at Hillsborough Community College (HCC) in Brandon Florida.
We thank Hillsborough Community College Administration and Electrathon Team for hosting our first race of the season, without you we would not have had a great day of STEM competition.
When we arrived it was a humid Florida morning filled with excitement and anticipation as this was the first time since March that our teams had the opportunity to use their STEM skills and training on the track.
Signs were posted at each entrance reminding everyone of the social distancing guidelines and mask requirements. This event was limited to just the participants and event coordinators due to our trying times.
There were seven teams that made the event. Our new team from Plant City High School with Sponsor David Kocher had their loaner car (donated to ETO from Electrocutioners Team) ready to hit the track.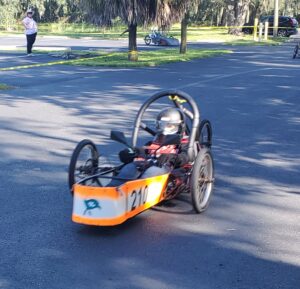 Mulberry High School could not have students attend so the Team Sponsor Todd Thuma came out and drove in the Open Division. It was great seeing the HCC and the USF College Teams. Tiger Racing, Silver Bullet and Titans came out and were ready for the challenge.
We were able to give our 2019-2020 Season Awards to those in attendance since our last races were cancelled because of Covid-19. Congratulations to all award winners.
As teams were starting to line up for the first race, the HCC Team was finishing up their tire pressure check and something went wrong, a tire rated for over 100psi decided 80psi was enough and blew the tube. Needless to say it was their motor wheel which delayed them getting onto the track.
Ryan Norden (Race Steward) dropped the green flag for the first race, Brady Weber with Team Titans gave it full throttle and took off screaming his tire. At one point he had to pull into the pit area, while turning up the volume on his phone, he dialed 911 and had to let them know it was an oops. At the end of the first race Silver Bullet was beating Mulberry in the Open Division by only one lap. Tiger Racing had an issue with one of their batteries and had to take it easy to complete the entire one hour race. Our new Plant City HS Team completed 85 laps and USF in the Advanced Battery Division completed 76 laps.
Between races, teams practiced social distancing wore masks as they made adjustments to their cars for the second race. As teams lined up for the second race all seven made it to the lineup. Team Titans had issues with their chain and finally threw in the towel after the master link and chain were left on the track. Mulberry was running great until the chain issues transferred from Team Titans to the Mulberry car. HCC was running great until the left front tire went flat, once it was changed they ran well until the same tire went flat just before the end of the race.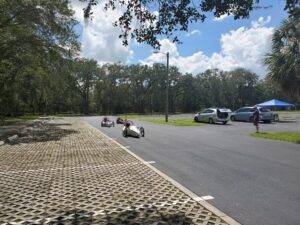 The final results for the day:
Plant City HS car 210 1st race 85 laps, 2nd race 84 laps for a 1st Place finish with 169 laps for the day. The team's best lap was 31.134.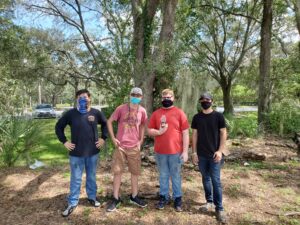 USF car 48 1st race 76 laps, 2nd race 105 laps for a 1st Place finish with 181 laps for the day. The team's best lap was 26.647.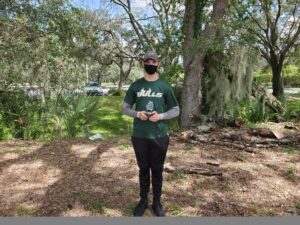 Silver Bullet Racing (Jim Robinson) 1st race 103 laps, 2nd race 103 laps for a 1st Place finish with 206 laps for the day. The team's best lap was 30.454.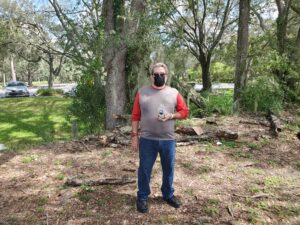 Tiger Racing (Rodney Schreck) 1st race 97 laps, 2nd race 100 laps for a 2nd Place finish with 197 laps for the day. The team's best lap was 31.613.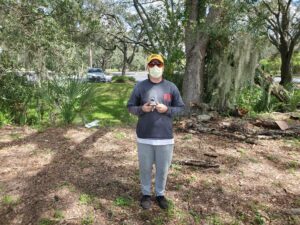 Mulberry car 38 (Todd Thuma) 1st race 102 laps, 2nd race 93 laps for a 3rd Place finish with 195 laps for the day. The team's best lap was 31.700.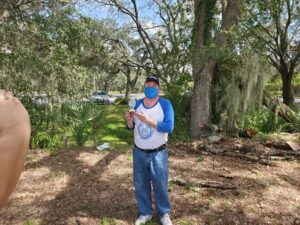 Titans car 242 (Brady Weber) 1st race 85 laps, 2nd race 15 laps for a 4th Place finish with 100 laps for the day. The team's best lap 29.834.
HCC car 30 1st race, they were in pits with tire issues, 2nd race 49 laps for a 5th Place finish with 49 laps for the day. The team's best lap was 40.052.
Our second race of the season is pending as we had to change our venue. Should know soon.
Charlie