Electrathon of Tampa Bay/Electrathon of Florida held the second event of the 2020-2021 race season on October 3, 2020 at Hillsborough Community College (HCC) in Brandon Florida.
We thank Hillsborough Community College Administration and Electrathon Team for hosting our second race of the season, without you we would not have had another great day of STEM competition.
Our Race Steward required a picture of all the drivers showing up prior to/on time for the drivers meeting, he believes that is a first in the history of our organization.
Mike Frederick (Race Steward) lined up the cars for the first race.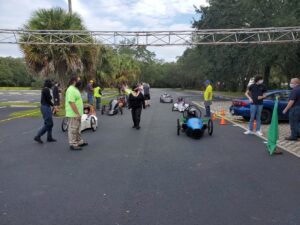 During the first race the HCC team struggled with their older batteries that seem to keep them from performing to their cars ability. Team USF had a few spokes on their wheel motor let go during the first race causing them to hit the pits for some repairs
Race 1 leaders in each division were:
Plant City High School car 210 with 87 completed laps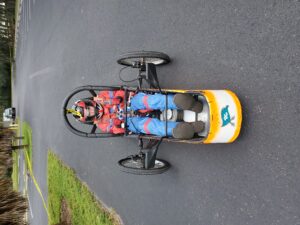 Tiger Racing car 4 with 102 completed laps in the open division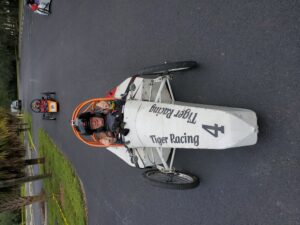 USF car 48 with 63 completed laps in the advanced battery division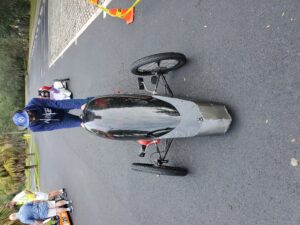 The second race of the day went well for most teams, HCC continued to have battery issues, Silver Bullet had throttle issues in the first few laps of the race, and USF made it through the entire race with more spoke issues that gave the driver a bumpy ride for quite a few laps.
Race 2 leaders in each division were:
Plant City High School car 210 with 101 completed laps
Tiger Racing car 4 with 101 completed laps in the open division
USF car 48 with 100 competed laps in the advanced battery division
At the end of the race day:
https://photos.app.goo.gl/Au68pMwPmKYGAaxz6
Plant City HS took 1st Place in the High School Division with 188 laps
USF took 1st Place in the Advanced Battery Division with 163 laps
Tiger Racing (Rodney Schreck) took 1st Place in the Open Division with 203 laps
Silver Bullet Racing (Jim Robinson) took 2nd Place in the Open Division with 200 laps
Titans (Brady Weber) took 3rd Place in the Open Division with 191 laps
HCC took 4th Place in the Open Division with 52 laps
Our next race will be at Plant City High School on November 7, 2020