On Saturday, April 10, 2021, Brandon High School Electrathon Sponsor Tim Ruman and BHS Administration hosted our Brandon Eagles Dash Event. Our Dash Event consists of multiple 20 minute races where cars are driven at their optimum performance ability.
The morning started out cool with a comfortable breeze. As teams arrived the sun came up and started to warm up the day. Throughout the day we had wind gusts that challenged our ability to keep our canopies on the ground.
The Pro EV Team, car 39 returned to the track, it was great seeing Cliff and James.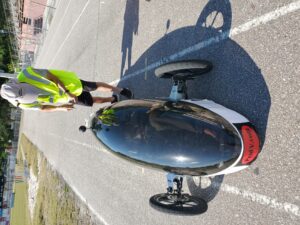 Silver Bullet Racing, Jim Robinson brought his new go cart style Electrathon for its first race.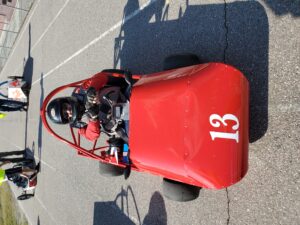 We require teams at every race to attend our Drivers Meeting with Race Steward Mike Frederick. Mike explains the race flags and rules of the track so that we have a safe and enjoyable event.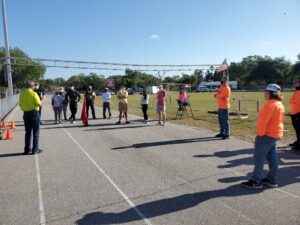 Our first race consisted of our open and advanced Division teams. There were six cars lined up when the green flag dropped for the first 20 minute Dash. There were three Open and three Advanced Division cars. Pro EV was the car to watch, quickly going around the track with lap times as low as 24.536 in the Advanced and Tiger Racing with 34.206 in the Open Division. Pro EV and Mulberry had to pit early due to a tire issue. At the end of their first race, Advanced Division: Fortuna (Torie) 40 laps, Pro EV (Cliff) and Silver Bullet (Jim) both had 31 laps. Open Division: Tiger (Rodney) 35 laps, Mulberry (Todd) 30 laps and HCC (Devan) 15 laps.
The next race our high school teams had four cars lined up when the green flag dropped to start their race. Plant City HS car 210 ran strong and smooth with a best lap of 26.649. Lennard HS car 86 popped a tire and did a quick tire change in the pits and they were back on the track. At the end of the race it was: Plant City car 210 (Tyler) with 43 laps, Lennard 78 car (Ashley) 36 laps, Lennard 86 car (Matt) with 29 laps and Plant City 208 car (Caden) with 24 laps.
Our special race of the day, Sponsor/Executive Board Members had five cars. Our ETO Executive Secretary (Trish) drove the Mulberry car in her first race and did really well, following Todd's instruction to take it easy and don't wreck. The purpose of this race is for those that are a part of the organization that normally do not drive a car in a race get the opportunity to go out on the track and have fun. Some take it very serious as the competitive streak appears, which makes it even more fun to watch. Lennard HS Sponsor Jordan drove the 86 car and Sponsor Lisa drove the 78 car for the first time in a race. Our Sponsors from HCC (Alex) and Plant City HS (David) have been on the track before. The race had no issues and at the checkered flag it was: Lennard car 78 (Lisa) with37 laps, Lennard car 86 (Jordan) 33 laps, Plant City car 210 (David) 31 laps, HCC car 30 (Alex) 28 laps and Mulberry car 38 (Trish) 27 laps.
The second race for our high school teams went well. Plant City car 210 (Troy/Elijah) 38 laps, Lennard car 86 (Tristan) 29 laps, Lennard car 78 (Donovan) 29 laps, and Plant City car 208 (Noah) 21 laps.
The second race for our Open and Advance Teams started out well. Our adult team drivers pushed their cars to maximum performance during the race. Mulberry car 38 (Todd) came around turn three and blew the front outside tire causing him to slide into the fence; this caused a red flag on the course. Todd was running laps as low as 29.076. Todd will have some bruises and swelling but will be okay due to all the guidelines for building an Electrathon car and the safety equipment required for the driver.
On the other end of the track Pro EV car 39 (Cliff) blew his rear tire sending him in a tail spin and into the sidelines. He got out of the car and is fine. Cliff was running laps as low as 23.558.
After drivers were checked and cars moved from the track, the remaining teams returned for another five minutes of racing. When the checkered flag dropped in the Advanced Division it was Fortuna car 444 (Torie) with 40 laps, Silver Bullet car 13 (Jim) 35 laps, and Pro EV Car 39 (Cliff) 32 laps.
In the Open Division: Tiger Racing car 4 (Rodney) 34 laps, Mulberry car 38 (Todd) 27 laps, and HCC car 30 (June) 24 laps.
The team's race results for each race were added together for the overall results for the race day.
In High School Division Plant City car 210 had 81 laps for 1st Place, Lennard car 78 had 65 laps for 2nd Place, Lennard car 86 had 58 laps for 3rd Place and Plant City car 208 had 45 laps for 4th Place.
In Open Division Tiger Racing car 4 had 69 laps for 1st Place, Mulberry car 38 had 57 laps for 2nd Place and HCC car 30 had 39 laps for 3rd Place.
In Advanced Battery Division Fortuna car 444 had 80 laps for 1st Place, Silver Bullet car 13 had 66 laps for 2nd Place, and Pro EV Car 39 had 63 laps for 3rd Place.
https://photos.app.goo.gl/ddNKPNUKneqJQyre6
Our next race will be held on May 1, 2021 at Plant City High School on the football field's track.