UPDATE
On 4/21/16 we met with the staff at the Florida Solar Energy Center to plan the course for our race (1062′). TEAMS MUST PRE-REGISTER USING THE LINK BELOW.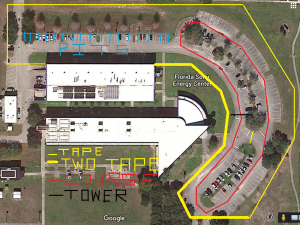 Our next race (last one of the season) will be on May 14, 2016 at the Florida Solar Energy Center located at 1679 Clearlake Road, Cocoa, Florida. We will be meeting soon to plan the course.
The Florida Solar Energy Center's Energy Whiz is all about clean energy and creative kids. Once a year hundreds of students converge at the Florida Solar Energy Center in Cocoa, Florida to participate in renewable energy competitions. Created by the Florida Solar Energy Center in 1999, the Energy Whiz is a forum for students to demonstrate their science, technology, engineering, artistic and mathematics (STEAM) knowledge and skills, as they relate to energy topics such as solar thermal, photovoltaic's (PV) and hydrogen technologies. Competitions include: Junior Solar Sprint, Critter Comfort Cottage, Energy Transfer Machine, Solar Energy Cook-off, Energy Innovations, Hydrogen Challenge, and of course, the Energy Whiz EVTC Electrathon race.
For more information about the Energy Whiz Olympics, you may download their brochure at http://www.energywhiz.com/energywhiz/EWO-brochure_EW-10.pdf.
ATTENTION: TEAMS
If you intend to participate in the Electrathon race held at the Florida Solar Energy Center during the Energy Whiz Olympics on May 14, YOU MUST PRE-REGISTER. TO REGISTER, click on this link, complete the form, and click the "submit" button at the end of the registration page.
http://www.surveymonkey.com/r/98GZ8C6