Electrathon of Tampa Bay will hold their last race of the season on May 4, 2019. The race will be held in conjunction with the Energy Whiz Olympics located at 1679 Clearlake Road, Cocoa Florida 32922. Each year students from all over come together for this one day event.
The course (red) will be the same as last year, the pit area (blue) will be for team trailers and canopies, all other vehicles will need to be parked in the southeast parking lot so that the race officials can have view of the track during the races.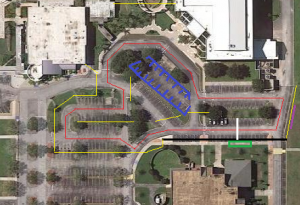 After the races we will clean up the venue before we hold our race awards and our end of the year/season awards.
Saturday evening, we will all meet at a local restaurant for dinner and fun.