Electrathon of Tampa Bay / Electrathon of Florida will hold their next race event on March 6, 2021 at Brandon High School, located at 1101 Victoria Street, Brandon Florida 33510.
This event is one of our most exciting days for our teams and members. Our ETO Teams, Sponsors / Principals and Executive Board Members will DASH around the oval track at the safest and fastest rate of speed that their car can perform for 20 minutes. Once again, the key is "SAFEST".
Our race steward, will black flag any driver/car that is not operating with safe driving techniques or any visual concerns with the car.
Reminder: any team that has students under the age of 18 years of age, must bring or have on file with ETO the parent / minor waiver forms for the student to participate at the event.
Race-Schedule-March 6 2021 Race-Only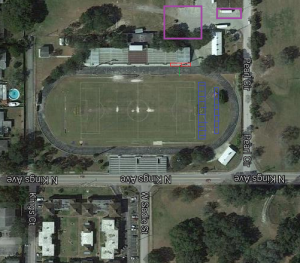 BLUE – PITS
GREEN – TOWER
RED – SCORING/REGISTRATION
PURPLE – VEHICLE PARKING
Bring the entire family to this FREE, FUN FILLED DAY of Electrathon (STEM) Racing.
Charlie