Posts belonging to Category Uncategorized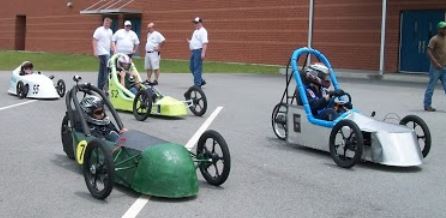 Georgia Electrathon Racing will be tough competitors for Florida Electrathon Teams.
PIX of Run for the Peaches 5-11-13 Quitman, Georgia
A big Thank you to the Florida Solar Energy Center and the organizers of the Energy Whiz Olympics for hosting yesterday's Electrathon event. Another even bigger Thank you to Electrathon of Tampa Bay for organizing, promoting, scoring, and officiating the races. Except for the nasty bump in the northwest corner, the course was great and fun to drive. Thankfully, the weather cooperated and the rain held off until after the trophy presentations.
Kudos to Merritt Island High School! They finally made it to their first Electrathon event, finished both races, and went home with a 2nd place trophy.
The Electrathon season is over for Florida now, but if you want some more fun, Brooks County High School will be hosting their 3rd annual "Run For The Peaches" next Saturday, May 11th. If you've never been to this race, you're missing one of the most challenging and interesting race courses we've ever run. For Tampa teams, it's straight up I-75 to Valdosta, Georgia and turn west on Highway 84. No need to miss school Friday; it's close enough you can leave after classes and get there well before bedtime. First race is 10:00 AM aturday I hope to see some of you there!
Jim Robinson
Silver Bullet Racing Cars 94, 86 & 13
Florida Board Member – Electrathon America
Titusville, FL