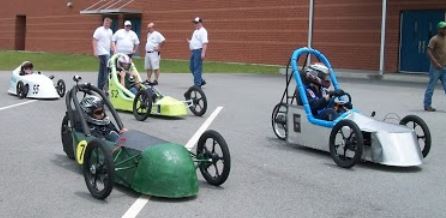 Georgia Electrathon Racing will be tough competitors for Florida Electrathon Teams.
PIX of Run for the Peaches 5-11-13 Quitman, Georgia
A big Thank you to the Florida Solar Energy Center and the organizers of the Energy Whiz Olympics for hosting yesterday's Electrathon event. Another even bigger Thank you to Electrathon of Tampa Bay for organizing, promoting, scoring, and officiating the races. Except for the nasty bump in the northwest corner, the course was great and fun to drive. Thankfully, the weather cooperated and the rain held off until after the trophy presentations.
Kudos to Merritt Island High School! They finally made it to their first Electrathon event, finished both races, and went home with a 2nd place trophy.
The Electrathon season is over for Florida now, but if you want some more fun, Brooks County High School will be hosting their 3rd annual "Run For The Peaches" next Saturday, May 11th. If you've never been to this race, you're missing one of the most challenging and interesting race courses we've ever run. For Tampa teams, it's straight up I-75 to Valdosta, Georgia and turn west on Highway 84. No need to miss school Friday; it's close enough you can leave after classes and get there well before bedtime. First race is 10:00 AM aturday I hope to see some of you there!
Jim Robinson
Silver Bullet Racing Cars 94, 86 & 13
Florida Board Member – Electrathon America
Titusville, FL
Electrathon of Tampa Bay Organization (ETO) was formed in 2008 as a Florida Nonprofit Corporation to promote and strengthen interest in Engineering in the (7) County TBARTA Service Area plus neighboring Polk County. We are an umbrella organization (9) Electrathon Car Clubs and (21) Junior Solar Sprint Clubs (JSS). Our Board is comprised of Educators, Engineers, Physicists and Community Business Leaders who have a demonstrated passion and a solid track record of providing our student teams with hands-on accessible learning opportunities related to Science, Technology, Engineering and Mathematics (STEM). This all volunteer group of visionary and strategic thinking adults are welded together by a common vision of improving the future of our students, our families and our Country through competitive engineering endeavors and real world learning projects open and accessible to all. We are the only such organization in the Southeastern United States.
ETO's Vision is to contribute to the laying of a foundation for a green, vibrant, low carbon future full of possibilities and opportunities for tomorrow's children throughout Florida. It is ETO's Mission to make this contribution by promoting Electrathon Racing and Solar and other Alternative Fuels Technologies involved in Junior Sprint Racing, endeavors full of technological entrepreneurial challenges and adventure.
ETO's Management Operations are characterized by cooperativeness, inclusivity and streamlined flexible decision making. All of ETO's Management Operations are fully transparent with periodic accountability reviews/mechanisms prescribed by our Corporate Bylaws. Given our present situation of imminent growth, there are a number of antecedent business needs and goals that must be met to insure that ETO's Management Operations continue to be well managed as we pursue our growth plans.
ETO's Competitive Technological Events and Educational Programs are unique when compared to other related programs such as Robotics Programs because of their accessibility to a wider student academic base and because of their ongoing cost advantages. Our Event Operations conform to the requirements of Electrathon America (EA) the national sanctioning body for Electrathon Racing while our Junior Sprint Division Operations conform to the guidelines of the National Renewable Energy Laboratory (NREL). While our Competitive Racing Events, Electrathon Program and our Educational Projects have demonstrably spurred student academic interest and attainment in Science, Technology, Engineering and Mathematics (STEM) there are needs for event equipment, project funding and logistics.
ETO's (4) Year Operational Goals and Outreach stand at the doorway of a soaring future with an eagerly anticipated ETO Electrathon Program Certification in August 2011 by SkillsUSA, a federal nationwide technical educational organization. This certification, together with several developing and supportive relationships with professional technical groups such as the IEEE Tampa Bay RAS, the Florida Solar Energy Center and Gulf Power Engineering Society when coupled with the solid interest expressed by school systems across Florida and Georgia, puts ETO in a solid position to expand statewide into the six Florida SkillsUSA Regions and potentially across the Southeast and beyond.
ETO' s (4) Year Projections and Financial Statement cover the next four school years and solidly undergirds our nascent and ambitious expansion plans. Our expansion plans are already coalescing. However while ETO has demonstrated its self be a dynamic and agile organization capable of responding quickly and adapting to change and while we are confident in our abilities to expand, we are presently resource constrained and thus offer a huge opportunities for meaningful and productive partnerships and sponsorships. One unknown in our financial projections is the potential for team funding access provided by our affiliation with SkillsUSA. ETO has no doubt that our SkillsUSA imprimatur will result in some alternate sources of funding for individual teams and perhaps ETO as well.