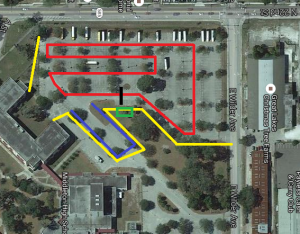 BLUE – PITS
RED – COURSE
YELLOW – SPECTATOR BARRIOR TAPE
BLACK – TOWER
GREEN – REGISTRATION / SCORING AREA
The third race of our season will be held on November 4, 2017 at Middleton High School located at 4801 North 22nd Street in Tampa, Florida.
We will be selling used tires 6 for $5.00, used tubes for $1.00 each, Helmets for $20.00 each, three bicycles for $10.00 each to use the metal for building or repairing an Electrathon car. We will also start up our 50/50 drawing, 1 ticket for $1.00, 6 tickets for $5.00 and 15 tickets for $10.00, proceeds will be divided, half going to ticket holder and the other to ETO.
A free day of Electrathon Racing for the entire family and friends, come out and support our high school, college and enthusiast while they compete at this race.
Charlie