Electrathon of Tampa Bay will hold our second race of the 2018 – 2019 season on October 27, 2018 at George Jenkins High School, located at 6000 Lakeland Highlands Road, Lakeland, Florida 33813. This will be our first race in Polk County.
A special thank you goes to our two Team Sponsors in Polk County, Todd Thuma from Mulberry HS and James Heuslein from G. Jenkins HS for coming on board with ETO and getting a race in their area. Mulberry HS is in their second season and G. Jenkins will be on the track at this race for the very first time. Will that give them a home advantage?
The race will be held on the bus loop located at the back of the school. The course is approximately 1700′.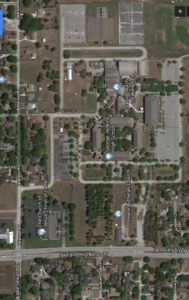 Yellow – Barrier Tape
Red – Course
Black – Scoring Tower
Orange – Spectator Parking
Blue – Registration
White – Overflow Parking for Teams
Green – Pit Area
The pit area is good size but those with medium/large trailers should arrive early to have a good turn around area rather than backing into the pits from the course.
Charlie