Our next race will be held at Lennard High School, located at 2342 Shell Point Road, Ruskin Florida 33570. Thanks to Sponsor Jim Reve ETO will hold our second race day ever at Lennard HS and we are looking forward to a great turnout. Our course will be an oval, on the track at the school. The pit area will be outside of the track/football field in the parking lot. The first race will lineup at 9:45am and the green flag for the 1 hour race will drop at 10 am. The second race will line up at 12:45 and the green flag will drop at 1 pm. Once the second race is completed, teams will assist with course and area clean up before the awards ceremony.
Lennard HS Electrathon Sponsor Jim Reve will have a fundraiser (lunch stuff and coffee). Please support them by purchasing your food and drink items from them.
Bring the entire family to this FREE, FUN FILLED DAY of Electrathon Racing.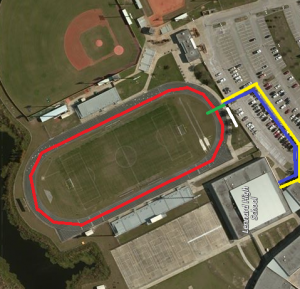 Red – Track
Yellow – Safety Tape
Blue – Pits
White – Registration
Green – Scoring Tower