Welcome Electrathon Racing Teams, our first race of the season will be held at Hillsborough Community College, located at 10414 East Columbus Drive, Tampa Florida 33619. The race day schedule will be the same as last season with the exception of this race. There will be a mandatory ETO orientation conducted for everyone from 730am to 830am. We have new teams, new cars, new drivers, new safety protocols and team structure suggestions.
The yellow is our safety barrier, red is our course, black is our scoring tower and green will be the pit area.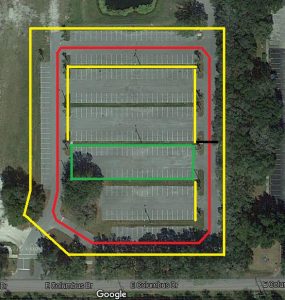 This year ETO will assist high school and college teams in attending races in Pensacola Florida (Five Flags Speedway), Quitman Georgia (Run for the Peaches), and Leeds Alabama (Barber Motor Sports) by transporting team cars and some equipment in our ETO trailer. This will be done on a first come basis; teams should send a written reservation to Fredi Beck (Treasurer/Publicist). Our ETO trailer will hold 3 or 4 cars and equipment.